We love the Art Outline colouring pages, but it seems EVERY school has them, and whenever there is some free time, or a class split, students do the same pictures over and over! You know the ones – the Aboriginal animals, or dinosaurs, or butterflies with all the little spaces to colour.
We've found a new site with trendy, fun, intricate designs: ClickNColour by Debbie Neale.
There are hearts, stars, swirls, peace signs, etc! A lot more exciting, if you ask us!
Our absolute favourite is the pattern alphabet. Once downloaded, you can change the size of the letters, and make display signs, tote tray labels, or even personalised colouring sheets.
It is called ClickNColour because you can also decorate the pictures and letters using the Paint program on your computer. Debbie has a tutorial on her website to show you how (it is super easy!)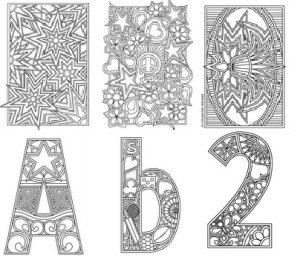 She hasĀ given us an Australian Flag colouring sheet for our freebie section!